Bags Tournament



DATE
Thursday, June 18, 2020
Friday, June 19, 2020
Schedules will be posted TBD by 5:00 p.m.
---
SITE
BBQ Round Up
McGrath Amphitheatre
475 1st St. SW
Cedar Rapids, IA 52401
---
TIME
Games will start at 5:30 p.m.  Times and court assignments are only listed for the first set of games on each court.  Subsequent games will then be assigned, in order, to the next available court.
How long will the tournament last?
Teams that continue to win should expect to play past 9:00 pm
---
ROSTER LIMIT
Teams consist of 2 participants.  Companies are allowed 2 open teams 
---
ELIGIBILITY
All players must be regular employees (full or part-time), interns or retirees of companies registered for the Corridor Corporate Games
---
COMPETITION INFORMATION
Corridor Corporate Games Bags Tournament participants will be allowed into the BBQ Roundup at no cost.  Passes will be given out at participant check-in.  Co-workers, friends, and family are encouraged to attend.  There is a $3 per person for non-participants to enter.  For more information, visit 
http://mcgrathamphitheatre.com/bbq-roundup/
---
HOST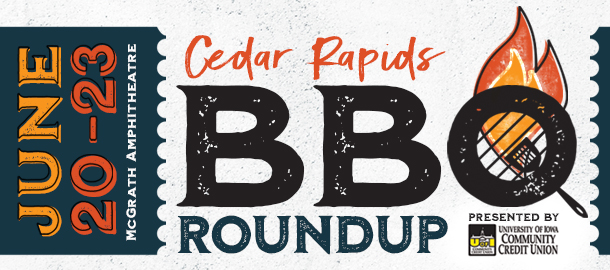 Company Leaderboard
FINAL STANDINGS 2019

DIVISION 1
1. Transamerica/Aegon - 20,405
2. Alliant Energy - 12,678
3. City of Cedar Rapids - 9739
DIVISION 2


1. Van Meter Inc. - 13,257
2. City of Coralville - 13,106
3. UFG Insurance - 11,759
DIVISION 3
 1. Shive-Hattery - 16,865
 2. Shuttleworth & Ingersoll - 10,277
 3. Steindler Orthopedic Clinic - 9661
Complete Standings